BOOKSHELF

Life and Business Series - Books written by Award Winning Author PaTrisha-Anne Todd
Bookshelf 
Your Personal Development Bookshelf.  Below you will find a selection of some of the books PaTrisha-Anne Todd has written that can support your journey to Living A Life by Design - You can do it now! 
7 Powerful Steps To Success  FOR SALE on Amazon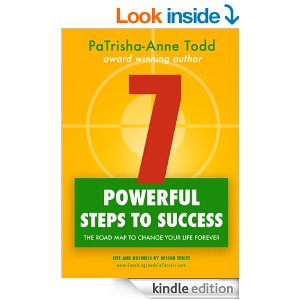 ---
A Special Limited Edition #1 Pepper Your Life With Dreams inspirational sayings to develop your PMA Positive Mental Attitude go here

You Can Buy Your Copy of Pepper Your Life With Dreams here 

This little book is filled with sayings that can help change your thoughts and attitude (PMA Positive Mental Attitude) and transform yourself into a positive, forward moving individual. 

Read a fresh saying each day, simply open the book at any page and read the statement. As you move through your day reflect on what you read. Apply your thinking process to developing a positive mental attitude.
_____________________________________________________________
#2 Life Coaching A-Z the ultimate guide to understanding life coaching including the instant results formula the Six Step Coaching Model.  £15.99 includes postage and shipping in UK.  £17.99 includes shipping around the world.