PodCast Challenge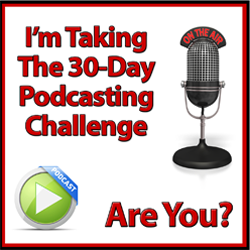 I'm taking the 30 Day Podcast Challenge - are You?
Podcasting Success Secrets is a community that will feed your thirst for knowledge on how to truly create the best podcasting series to support your business.
To support you in your endeavours to create a podcast series for 2015 I'm delighted to offer you a FREE ACCESS PASS to the 30 Day Challenge.  It's going to be an exciting journey and I just know you are going to love being a part of this very special community. Simply click the link and join me in the challenge.
Boost Your Business With Podcasting
Gather raving fans each time you podcast
Earn profits from your podcast
Market using podcasting as the tool in 2015
Poscasting is a hot media item
Generate leads and create a fan base
Connect regularly with your audience
Share insights and help others achieve more