Hello


From PaTrisha-Anne's laptop
Achieving Success In All Areas of Your Life
"The Coaching Club at CoachingLeadsToSuccess.com is the on-line place where I share powerful insights into how you can take your business to the next level. My team and I give you personal development tactics to boost your core belief system with a PMA Positive Mental Attitude and empower you to build a sustainable and profitable business.
I encourage you to make use of your complimentary membership (value: annual subscription £195)and enjoy the tips, techniques, tools, books, programs and retreat offers so you can create a lifestyle and business by design."
---
To celebrate my birthday month I have a gift for each of you. My latest book in the Life and Business by Design series is available to download FREE today Sunday 5 July. 7 Powerful Steps To Success @ Amazon
Success Is Waiting For You
Keep An Eye On Your Goal At All Times!
Remember personal success includes many aspects of application, review, adjustment and more application over time. The journey continues moment by moment and only you can gauge at what level of satisfaction you have reached.
No matter how long it takes, success is possible. Do you know in show business they say it takes 27 years to become an overnight success... so folks here's to your success beginning today.
Don't forget to download a copy of my book today while it's still available free. download your copy now

CoachingClubEzine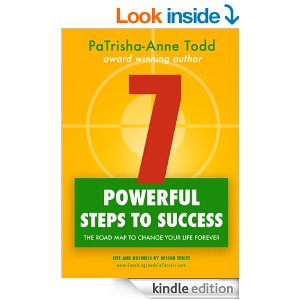 Coaching Club members
A BIG shout out to all our new Coaching Club members, I know you'll just love each issue - a gift from me, and don't forget if you have a story to tell we'd love to share your journey to success with the visitors to our web site www.CoachingLeadsToSuccess.com go on over to the special page set up for you and share
Yours In Coaching, PaTrisha-Anne Todd, Author, Coaches In Business Mentor, Speaker
About - Coaching Leads To Success

My mission is to share with you the amazing benefits of personal development and business building with motivated people like you who want to turn their knowledge into profit.

The Coaching Club at Coaching Leads To Success offers dynamic coaching solutions to get you high on your power, visit our web site and have a good look around or contact us with your query.

P.S. The following offer is just for you as a subscriber. You are eligible to a BIG discount on a one-on-one Coaching Call with me.[via Skype].

I'd be delighted to help you begin Living Life by Design!

Coaching Club member discounted to £75 saving 50% on regular price. Please email me to set up an appointment...

email 75coachcall @ coachingleadstosuccess.com