Hello


A Personal Message from PaTrisha-Anne
"The Coaching Club at CoachingLeadsToSuccess.com is the place on-line where I can share my passion for PMA Positive Mental Attitude with you and give you insights into the wonderful world of Coaching Leads To Success.
I know you'll reap endless benefit from your complimentary membership and enjoy the best tips, techniques, tools, books, programs and retreat offers."
---
I'm so happy to tell you that my latest book in the Life and Business by Design series is live on Amazon. 7 Powerful Steps To Success @ Amazon
Why I Decided To Write A Book Series
A few weeks ago I got the idea into my head that now is the best time for me to share the knowledge I've gleaned over the years so I've decided to write just for you two series of books over the coming months that will help you to identify your true goals and figure out the best way you can get to goal.

Life and Business by Design series will bring you metaphysical and practical dynamic solutions to getting closer to living the dream. You can begin with the first book in the series '7 Powerful Steps To Success'.

NOTE:

If you were forwarded this issue you can claim your own complimentary membership by clicking the link:

CoachingClubEzine
You Can Live The Dream
How you feel is so important and your mindset is integral to the way you live your life. If you have ever thought about how your life could be. You know what I mean, free time and how you'd spend it, the holidays you'd take, the house you'd live in and even the kind of business you'd have. In fact have you ever dreamed about increasing your income by x3, x7 even by x10 times more than you currently earn and truly living life on your terms?
I used to think like that and feel cheated, until I began to learn about personal development and the amazing results I could achieve.
How about you do you push your dreams onto the back burner telling yourself you'll come back to your dreams when life is better or worse still do you compromise and choose mediocrity.
To help you move those limiting thoughts out of your brainbox here's a couple of ideas to keep you moving forward.
More Is Available To You
When you think you can't have a better lifestyle then you are right. If you think you can't drop the weight, improve your career prospects, increase your income and have optimal health then again you are right. You see by focusing your thoughts on the idea of limit and poverty then your are feeding your subconscious mind to create less.
The only way to improve your circumstances and prospects is to widen your thoughts and take a quantum leap towards what you want.
A quantum leap is not about trying to take your life to the next level, no, it's about stepping out of your comfort zone and going for the goal. Of taking a calculated risk to do more, to be more and to have more. To do that you need a focused plan of action and a hunger in your belly to succeed.
My Message To You Today
Living a lifestyle by design requires mindful awareness of where you are now together with the skills you have and what you need to do in terms of planning the actions to take and the skills to use as well as learning what you don't know that will get you to goal.
Success is not easy. Success is the result of effort and continued application.
If you haven't already done so go over to Amazon and download my latest book '7 Powerful Steps To Success' a tool that will enhance your lifestyle and guide you towards creating a business and lifestyle by design.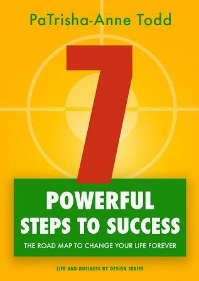 Coaching Club members
A BIG shout out to all new Coaching Club members, I know you'll just love each issue I send to you as a gift from me, and don't forget if you have a story to tell I would love to share your journey to success with the visitors to my web site www.CoachingLeadsToSuccess.com go on over to the special page set up for you and share
Yours In Coaching, PaTrisha-Anne Todd, AuthorPreneur and Coaches In Business Mentor
About - Coaching Leads To Success

My mission is to share the amazing benefits of personal development and business building with motivated people like you who want to turn their knowledge into profit. You might be a university student wanting to earn some extra cash and have a knowledge base you can share, or maybe your are a single mum (or dad!) who has tips that would help others. You might be concerned about your financial future as a struggling employed person who really wants to FIRE THE BOSS and work from home or maybe you're a Baby Boomer fed up with a limited income and eager to build your own cash machine from what you know. The Coaching Club at Coaching Leads To Success offers dynamic coaching solutions to get you high on your power, visit our web site and have a good look around or contact us with your query.

P.S. The following offer is just for you as a subscriber. You are eligible to a BIG discount on a one-on-one Coaching Call with me.[via Skype].

I'd be delighted to help you begin Living Life by Design!

Coaching Club member discounted to £75 saving 50% on regular price. Please email me to set up an appointment...

email 75coachcall @ coachingleadstosuccess.com